"Without our traditions we'd be as shaky as a fiddler on the roof!"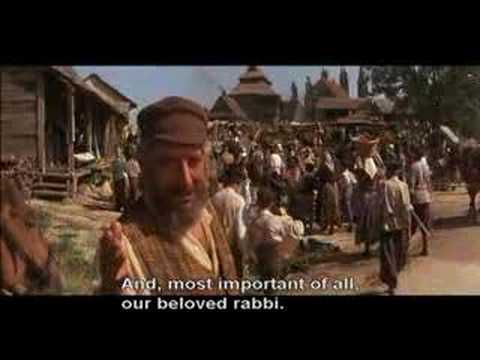 When most of us think about a tradition, they think of doing the same thing on the same occasion time after time. We all have lots of these traditions. My family has an annual Christmas Eve party (~40 people) that started when I was a kid and continues to this day—for better or worse. On our anniversary, I buy my wife one rose for every year we've been married—last June it was 13. My mom comes up to Oregon from California every year for Halloween to share the night with our kids. I like these traditions because they're family-centric. They bring us closer together, remind us of who we are and where we come from. They encourage reflection on where we've been and where we're headed.
when Jimmy asked me to write this syncro blog about Ceremonies, Rituals & Romance and how they relate to thoughtfulness I was pretty intimidated by the topic. I didn't think I had a lot to say about the topic, but maybe I do…
I'm married…happily. I've been married for 13 awesome years and have been with my wife for 20. Yeah I was a little bit slow to realize what a catch she was/is.
There's not doubt in my mind that my wife and I are still "in love" with each other. But we aren't the most romantic couple in the world. Sure, we do "romantic" things for each other. And yeah, we've taken trips to romantic locations like Italy, Tahiti, Cancun, Hawaii, and Big Sur among others. We've definitely done flowers and chocolates and other cliche romantic surprises. But mostly, our idea of "date night" is going for a Wednesday night speed workout with 20 or so of our running friends and then hanging out at the bar for a few beers afterwards…we're kind of frugal so we shoot two three birds with one babysitter (by combining quality time together with friends and working out). It's definitely not the most romantic evening, but it works for us right now.
It's probably not a surprise that Valentine's day isn't really big on our radar. In fact, I pretty much hate Valentine's Day and all of its traditions. We don't need it to remind me us of how much we love each other. To me, Valentine's day is a way to show OTHERS how much you love your partner and that's just silly. I hate the media blitz that surrounds V-Day… "buy candies, buy chocolates, buy hallmark cards, buy diamonds." I even heard a commercial for a valentine's car wash special on the radio. Nothing says romance like a gift certificate, right? Now I'm pretty sure my wife would jump my bones if I actually WASHED her car for her for V-Day (or any day for that matter) but the gift certificate wouldn't quite float her boat.
I hate V-day traditions because they're so easy. They don't require any thought. To me, the thing that makes a tradition special (in this case romantic) is the thoughtfulness that goes into said tradition. "Easy" doesn't mean "better", or even "good"—and it especially doesn't mean "right." That being said, sometimes even I take the easy way out on Valentine's Day. Usually I don't, but I've been known to send flowers and go out to dinner on Valentine's Day occasionally.
It may be too late for this Valentine's Day (perhaps we should have posted this last week), but I challenge you to find a tradition for you and your significant other that actually means something for the two of you. Don't do something because you heard it on the radio, or because it's what you've always done. Do something that will knock your lover's socks off.
Usually, this is the point where'd I'd give you ideas for said "sock knocking off." But I'm not going to do that today because any idea you get from me would defeat the purpose of creating a Valentine's Day tradition. If it doesn't come from YOUR heart, it shouldn't come from mine!
What are your thoughts on Valentine's Day Traditions? Love 'em? Hate 'em? Take 'em or Leave 'em? Check out some other cool bloggers who are writing about the same things here: